All UK Classic and Vintage Car Shows - "Over a million website visitors per year!"
The June 24-25th weekend has 43 events - two Major events at Flywheel in Bicester and the Supercar event at Guildford. We also highlight the new Belgravia event in Central London with an impressive selection of cars, and the Rolls-Royce Enthusiasts at exquisite Burghley House.
The North West has :- Lymm, Kelsall steam, Burnley, and an event at Hoghton Tower.
The North East has Sledmere house, Preston Hall, Huby and Sutton, and Beverley.
London+South East has London bus, Banbury, Tingewick, Land Rovers at Beaulieu, Amberley, Morris Minors, Hanworth, and Amberley.
Coventry hosts the Riley Register at Wroxall Abbey and Jaguars at the Museum, and Feck'n Wake. The South West has Prescott, West cornwall, and Tregrehan.
East has Husbands Bosworth, Pure Nostalgia, Carsington Water, and Cressing. Crich Tramway hosts Masonic cars and Sunbeam- Darracq.
Scotland has Paxton House, Moffat, Strathmore, and the VSCC Scotland Tour ... Please have a look at the June listing for the other events ...
Car shows & events coming up this week:–
Event Name: Jaguar XK All Round Britain Coastal Drive Start Date: 12 June 2017 End Date: 29 June 2017
Event Description: Building on the great success of the Coastal Drive for E-types in 2016, now it's the turn of Jaguars iconic 50s XK sports cars! Sample the best of England, Wales, and Scotland, with superb driving and fabulous scenery. Jaguar XKs will be driving all the way around the coast of Great Britain - relay fashion - in support of Prostate Cancer UK. Each one day stage will comprise an average daily drive of 200 miles, with an approximate overall distance of 3,600 miles over the 18-day event.
Car Type: jaguar Number of Cars Attending: tba
Times:see each stage
Location: Start at Beaulieu Brockenhurst
Area: Hampshire Region: London+South East
Organisation: Jaguar XK club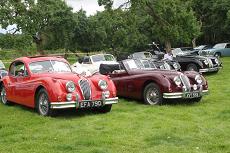 Event Name: Tour de Bretagne Start Date: 23 June 2017 End Date: 24 June 2017
Event Description: The Tour de Bretagne is open to all classic, historic and replica cars built before 31 December 1993 - although we will accept more modern vehicles if they are particularly interesting.
Car Type: All classics Number of Cars Attending: 25
Times:10:00am
Location: Start near Finister
Area: France Region: France
Organisation: Brit-assist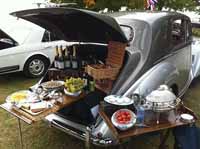 Event Name: RREC Annual Rally Start Date: 23 June 2017 End Date: 25 June 2017
Event Description: The Annual Rally weekend is the Rolls Royce Enthusiasts Club main annual event with over 2000 Rolls - Royce and Bentley Motor cars attending. A Special celebration of the 110th birthday of those Elegant Silver Ghosts will be held on the Saturday. This is the third year that the event is at the prestigious Burghley House in Stamford, Lincolnshire.
Car Type: Rolls-Royce and Bentley Number of Cars Attending: 2000+
Times:10am-6pm
Location: Burghley House Stamford
Area: Lincolnshire Region: East Midlands
Organisation: Rolls Royce Enthusiasts Club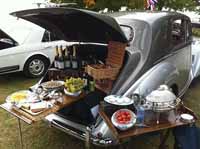 Event Name: Prescott Mid Summer Speed Fest Start Date: 24 June 2017 End Date: 25 June 2017
Event Description: Competitors representing two famous venues in hill climb The 6th Round of the Midland Hill Climb Championship The 2nd Round of Prescott Gold Cup
Car Type: All classics Number of Cars Attending:
Times:
Location: Prescott hillclimb
Area: Gloucester Region: South West
Organisation: Bugatti Owners club - Prescott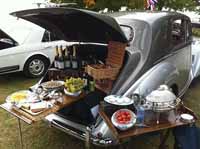 Event Name: Sloughbottom Park Norfolk Start Date: 24 June 2017 End Date: 24 June 2017
Event Description: The only Classic Vehicle Show in Norwich is part of the Mile Cross Community Association Festival at Sloughbottom Park. 8th year for the Car Show, 36th for the Festival - classic cars, entertainments, stalls, food and sideshows.
Car Type: All classics Number of Cars Attending: 100-150
Times:12.00 - 16.00
Location: Sloughbottom Park Norwich Ring Road) Mile Cross
Area: Norfolk Region: East
Organisation: MIle Cross Norwich Community Associaction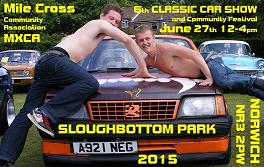 Event Name: Kelsall Steam and Vintage Rally Start Date: 24 June 2017 End Date: 25 June 2017
Event Description: classic cars over the 2 days plus of course a wonderful display of steam traction engines plus fun fair. Annual ERF Gathering, Foden Society attending, Morris commercial Club attending at Churches View Farm, Kelsall Road, Ashton, Nr. Chester.
Car Type: All classics Number of Cars Attending: 200
Times:Gates 9:30
Location: churches view farm, Kelsall road Ashton Chester
Area: Cheshire Region: North West
Organisation: Kelsall Steam and Vintage Rally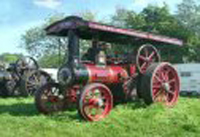 Event Name: SUPERCAR EVENT TOP GEAR TRACK Start Date: 24 June 2017 End Date: 25 June 2017
Event Description: Held at Dunsfold Park, The Supercar Event is already shaping up to be the highlight of the 2017 Calendar, as in previous years all the revenue is paid directly to The Children's Trust charity. See http://www.thesupercarevent.com/
Car Type: Number of Cars Attending:
Times:09:00-16:30
Location: Dunsfold Park near Guildford
Area: Surrey Region: London+South East
Organisation: Children's Trust


Event Name: FLYWHEEL BICESTER OXFORDSHIRE Start Date: 24 June 2017 End Date: 25 June 2017
Event Description: Flywheel is full of treats for historic motorsport, motoring, aviation and military vehicle enthusiasts, with spectacular displays and live-action demonstrations. One very special element is that visitors get the chance to get really close to the rare historic racing cars in the open-access paddock, and to the aircraft and military machinery..
Car Type: All classics Number of Cars Attending: .
Times:tba
Location: Bicester Village Bicester
Area: Oxfordshire Region: London+South East
Organisation: Flywheel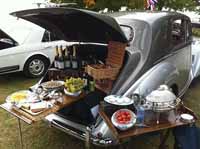 Event Name: Jaguar Super Saturday Coventry Museum Start Date: 24 June 2017 End Date: 24 June 2017
Event Description: Jaguar Super Saturday is back for its fifth anniversary! A display of Jaguar cars fills the space outside the Museum. This year promises to be yet another grand day out! The event will be supporting the air Ambulance Charity once again – having raised a great amount last year from the kind generosity of the drivers attending. Pop in and see the stunning Jaguar gallery inside the museum too.
Car Type: Jaguar Number of Cars Attending: 90 max
Times:10am to 4.30pm
Location: Millennium Place, Hales Street, Coventry
Area: West Midlands Region: West Midlands
Organisation: Jaguar Enthusiasts Club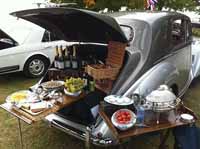 Event Name: VSCC Scottish Auto Solo and Scotland Tour Start Date: 24 June 2017 End Date: 25 June 2017
Event Description: The Green St Boswells Melrose
Car Type: Vintage cars Number of Cars Attending: 100+
Times:
Location: The Green St Boswells Melrose
Area: Scotland Region: Scotland
Organisation: Vintage Sports Car club