All UK Classic and Vintage Car Shows - "Over a million website visitors per year!"
Greetings from a cold and salty UK! However:-
February has the dynamic London Classic show at Excel in East London from 15-18th. This is followed on the next weekend (23-25th) by Race Retro at Stoneleigh.
Each year, as we update each show, we find a few have dropped out, for whatever reason. All the more reason to welcome and highlight new shows being created. Here are a few:-
Classicshows with Castle Howard on June 17th, Bowood House Wiltshire on May 6 and August 12th, Hardwick Hall Durham on 10th June, and Stonyhurst Lancashire on 12th August.
The Duke of Argylls Festival of Performance at stunning Inverary Castle in Bonnie Scotland on 2-3rd June.
Finally Mark Woodwards revival of an event at Hoghton Tower in Lancashire on 2nd September .
Best wishes (and weather) to all of us for the new Classic Season .
P.S. we are well into the task of loading your 2018 shows with 700 events listed for 2018. If any of you are amongst the 500 that havent given us your 2018 show updates..... .
Car shows & events coming up this week:–
Event Name: Race Retro Stoneleigh Start Date: 23 February 2018 End Date: 25 February 2018
Event Description: 2017 truly was a 'Super Show' and 2018 is set to be even more impressive! The Motor Sport Hall of Fame Live will house even more cars this year and the Motor Sport Live Stage will have a jam-packed timetable with motor sport icons and racing celebrities. The Live Rally Stage will be bigger and better than ever before and the halls will be filled to the brim with specialist exhibitors, clubs, race series' and the much loved Autojumble.
Car Type: All classics Number of Cars Attending:
Times:Fri/Sat 9:30 to 5:30 Sun 9:30 to 4:30
Location: Stoneleigh Park
Area: Warwickshire Region: West Midlands
Organisation: Historic Motorsport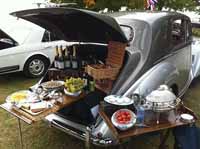 Event Name: VSCC Pomeroy Silverstone Start Date: 24 February 2018 End Date: 24 February 2018
Event Description: VSCCs Pomeroy at Silverstone. 2018 marks the 54th anniversary of The 'Pom', the unique event in which the speed, agility and braking ability of Pre-war and Post-war machines are pitted against each other.
Car Type: All classics Number of Cars Attending:
Times:
Location: Silverstone
Area: Northamptonshire Region: East Midlands
Organisation: Vintage Sports Car club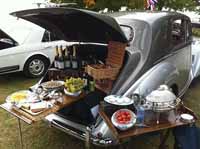 Event Name: Ace cafe All American Cruise Meets Start Date: 24 February 2018 End Date: 24 February 2018
Event Description: Ace cafe All American Cruise-In + Jeeps+4x4
Car Type: American Number of Cars Attending: max 50 medium sized vehicles
Times:4pm - 8pm
Location: Ace cafe
Area: London Region: London+South East
Organisation: Ace Cafe London

Event Name: Newark Autojumble Start Date: 25 February 2018 End Date: 25 February 2018
Event Description: A great day out for any car or motorcycle enthusiast, the 'Normous Newark Autojumble offers a vast array of parts, restoration services and related products for a variety of vehicles on ten separate Sundays throughout the year. Each 'Normous Newark Autojumble sees Newark Showground filled with hundreds of inside and outside trade plots, as well as a classic car and bike display area. On site catering units are available as well as an inside cafeteria. Run by a friendly and experienced team of event staff from Mortons Media, each 'Normous Newark Autojumble attracts a large number of visitors from across the UK in search of the great finds and bargains on offer. If youre after a certain part, piece or tool for a motoring project, then the 'Normous Newark Autojumble is where you will find it.
Car Type: Number of Cars Attending:
Times:6am stallholders, 8am earlbird customers
Location: Newark and Notts Showground
Area: Nottinghamshire Region: East Midlands
Organisation: Mortons Media Group Ltd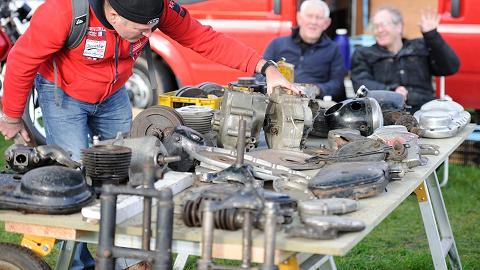 Event Name: Rover sports Register at Whitewebbs Start Date: 25 February 2018 End Date: 25 February 2018
Event Description: The 12th annual RSR Icebreaker event returns once again at Whitewebbs Museum. Come one, come all and join the usual crew as they brave the elements at the start-of season at Whitewebbs Museum. All models and conditions are welcome. For details of the museum and directions see the web site www.whitewebbsmuseum.co.uk. RSR contact is Adrian Mitchell, e-mail adrmitche1@gmail.com on 09:00
Car Type: Rover Number of Cars Attending: 30+
Times:Duration: 06:00 hours.
Location: Whitewebbs Road, Enfield,
Area: Middlesex Region: London+South East
Organisation: Rover Sports Register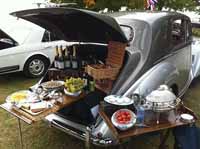 Event Name: morris Minors at Manchester Start Date: 25 February 2018 End Date: 25 February 2018
Event Description: Morris Minor Event - Greater Manchester's Museum of Transport. The Morris Minor was designed by Sir Alec Issigonis (creator of the Mini) and was built by Morris Motors, later by the British Motor Corporation and eventually British Leyland.
Car Type: Morris Number of Cars Attending:
Times:
Location: GMTS Chadderton
Area: Manchester Region: North West
Organisation: Greater Manchester Transport Society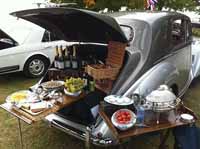 Event Name: Start Date: 28 February 2018 End Date: 28 February 2018
Event Description: **** Please note that events following this one do not yet have 2018 dates ******
Car Type: Number of Cars Attending:
Times:
Location:
Area: Region:
Organisation: Classic Car Driving

Event Name: Ace Cafe classic mini meet Start Date: 01 March 2018 End Date: 01 March 2018
Event Description: The monthly Mod n' Mini Night (is all classic Minis) - 1st Thursday of the month at the Ace café
Car Type: mini Number of Cars Attending: max 50 medium sized vehicles
Times:18:00 to 23:00pm
Location: Ace cafe north Circular Rd
Area: London Region: London+South East
Organisation: Ace Cafe London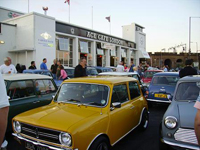 Event Name: Knutsford MC Tour of Cheshire Start Date: 03 March 2018 End Date: 03 March 2018
Event Description: Knutsford Motor Club are planning for you a full historic rallying experience along the popular lines of our previous events with interesting special tests, scenic regularities, quality venues and the attendance of an array of rally stars of old.
Car Type: All classics Number of Cars Attending: Max 75
Times:
Location: Bickerton Poacher Wrexham Rd, Bulkeley, Malpas
Area: Cheshire Region: North West
Organisation: Knutsford and District Motor Club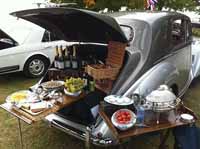 Event Name: Malvern Drive In Classic Car & Bike Autojumble Start Date: 04 March 2018 End Date: 04 March 2018
Event Description: This is the perfect show to attend if you want to buy any classic parts or spares while your vehicles are off the road in the winter. Motoring enthusiasts will be able to find anything from true autojumble/second hand spares to businesses selling specialist parts, services, clothing and tools
Car Type: All classics Number of Cars Attending: N/A
Times:10am - 3pm
Location: 3 Counties showground, Malvern
Area: Worcestershire Region: West Midlands
Organisation: Classic Shows